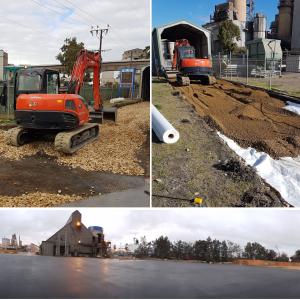 Project Scope
Ingenia was engaged by Adelaide Brighton Cement to project manage the installation of a new hardstand for truck movements at their Birkenhead facility and repair of a site truck wash. After many years, the previous solutions had degraded and it was determined that a new pavement would be installed to the current specified regulations and traffic requirements. The scope included bitumising hardstand areas, an updated site drainage system and replacement of roadways.
Ingenia managed the project scope from initial concept and completion of the bitumen installation through to handover to the client. Along with project management, Ingenia conducted the initial civil assessment and design concept.
Challenges
Adelaide Brighton Cement highlighted the importance of minimizing disruption of truck movements in and around the project to maintain flow of product throughout the facility. Ingenia worked closely with the client and other contractors to coordinate the project milestones around the operating plant. This involved developing a communication plant throughout the client's workforce, and communicating revised truck movement plans to site personnel and subcontractors involved in the project.
Conclusion
The project was successfully delivered to the expectations of the client. Ingenia's experienced mechanical, civil and structural qualified engineers and drafters were proud to bring another big project to life.