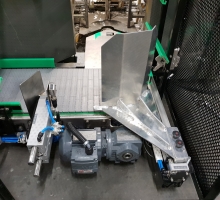 Project Scope
For this project, the Ingenia team was tasked with designing a fit-for-purpose automated machine that was capable of delivering stacks of lids to a lidding machine. The purpose of the machine was to save time and reduce operator fatigue.
Challenges
After scoping the project and providing the client with a budget, Ingenia set to work on designing the concept for the machine, ensuring that the customer's goals for the project were incorporated every step of the way.
Following sign off of the concept, the engineering design team took over, providing detailed designs that would not only help the client envision the final product, but also give external contractors clear instructions on what was required for the job.
Conclusion
Working alongside associates within the automation, electrical and fabrication industries, Ingenia brought the machine to life and the custom paint lid accumulator was installed and commissioned. Consisting of a full conveyor, frame and guide design, the machine was fully engineered to suit a variety of lids, ensuring that all of the customers requirements were covered.